| | | |
| --- | --- | --- |
| | Support our tropes | |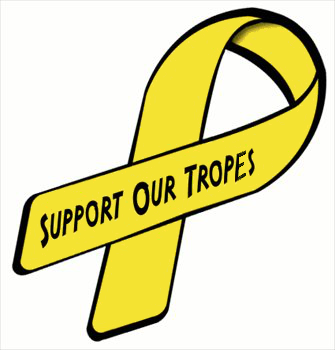 Copyright © 2011, Joseph M. Newcomer, All Rights Reserved.
After someone saw this, she asked me if I minded if she made a T-shirt to wear at a conference. So here's the deal: anyone is free to use this design for personal use. You can print it on paper, put it on your car, make a T-shirt out of it, but you may not sell anything based on this design. It was designed for fun, and I don't mind if you have fun with it, but if you want to make a profit with it, I want part of the action. So no selling it. But if you have some fun with it, please share; send me some email to let me know what happened when someone saw you with it.
Here's a direct link to the PNG (Portable Network Graphics) image. To get the image, if you are using Internet Explorer, right click on that hyperlink and select "Save Target As...".