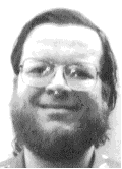 I've been asked to say something about myself, my hobbies, etc. Here's some factoids for the morbidly curious...

In case you are wondering, this is what I look like. At least on a good day. This is the mask the Flounder wears in public.

I play piano and theatre organ, and have played Slovenian button accordion (but I'm well out of practice at this point). In my spare time (little enough) I compose music and some of my arrangements have been featured on our local public radio station.

Other public activities include more public writings. If you are familiar with the CMU research that claims that using the Internet makes people lonely and depressed, you should read my commentary on this research. This is under the "Editorial Opinions" icon.

I've flown gliders and single-engine planes, but was disqualified for medical reasons. The disqualification was based on my cardiac condition. A few years after this disqualification, the heart went critical; a combination of a congenital heart defect and childhood rheumatic fever caught up with me; I now have a prosthetic aortic valve, so I'm one step along the path of becoming a cyborg. I also have to dose myself with rat poison daily. About two years ago, a major abdominal incision which had herniated was repaired with a double layer of polypropylene fabric. So I'm slowly becoming plastic and metal.

I enjoy volcanoes, and have spent a fair amount of vacation time hiking over the Hawaiian volcanoes. We've even slept over on the volcanoes, only a few miles from an active cone (it was awesome to wake up in the middle of the night and see the volcano's activity reflected off the low clouds that were hanging over it!) I've collected lava that was molten minutes before I got it (the minutes-old rock sits beside a slice of the Allende meteorite, whose chrondrules have been measured at 4.6 billion years old, older than any rock on earth, and probably these are the primordial material out of which the planets formed).

In 2007-2008 I took a Certificate in Forensic Science and the Law program at Duquesne University School of Law. The scheduled date of award of the Certificate is 23-Aug-08, so I cannot claim to have the actual Certificate before that date. My final paper was a 250-page book draft of a book tentatively titled Questioned Computer-Based Documents: Technology, Issues and Techniques. As of June, 2008 I am working on completing this book and expect to start searching for a publisher in Fall 2008.